At five months old we thought it was time to introduce Henry to the water. July 29 was a warm nor' west Saturday so we packed the Newfoundland boys in the car & drove down the road to the river.
Having Wellington to show Henry what to do certainly helped and Henry took to the water like a Newfoundland dog should.
Here, Newfoundland puppy Henry is enjoying the alpine environment in Porter's Pass. He was exactly six months old when this photo was taken.
Henry weighed in the day prior at 45.5 kilos.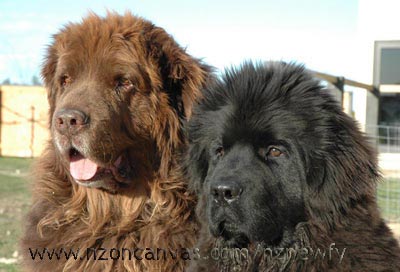 Young Henry is beginning to catch up to our older Newfoundland Wellington in size. Here Henry is six months and Wellington is ten years.
Henry still considers himself to be a "lap dog"... which can be a tad uncomfortable...
Henry is a breeze to walk...he does it himself.
Our young Newfoundland pup is pictured here on a short walk at eight months of age, carrying his own lead.
At this age, Henry's weight was around 60 kgs.
At ten months old Henry weighed in at 65 kilos and had almost caught up Wellington (right), who at that time weighed 67.5 kilos. Here Wellington is around ten-and-a-half years of age.
Here we are at twelve months with big brother Wellington, who is in his eleventh year. Henry adores Wellington...and just between you and us, we think old Welly doesn't mind Henry being around either...
Both of our Newfoundland dogs love routine and bedtime is very much part of that. If we are just a couple of minutes late Henry gets restless. Here he is on his way...
Henry is picured here at thirteen months old.
At this age he weighed around 65 kilos, about 143 lbs for those who speak that language.
Please note that all images on this site are copyright.