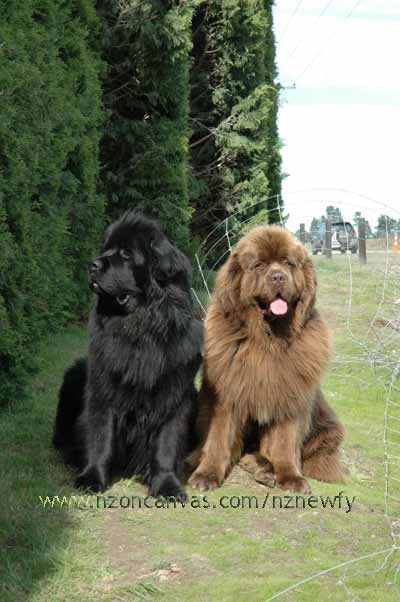 We woke on Saturday September 4th 2010 at precisely 4:35 am. My first thought was "Just an earthquake, it will be gone in a few seconds..."
In fact, a few seconds later the shaking had intensified massively and we made for the door jamb believing that the house was about to collapse. Things were toppling, Enzo was barking and it felt like our home had become some sort of supercharged washing machine.
When we ventured downstairs to find a torch we expected carnage. Instead almost everything was intact and amazingly we had come through the 7.1 earthquake, which was centred very close to home and only 10 kms deep without a scratch. The Newf boys were fine too.
Here the boys are demonstrating a little of what happened. This shelter belt used to be in a straight line on the outside of Enzo. As Henry notices, the shelter belt and fence were pushed two to three metres in sections to the other side of where he is.

The Hororata St John's Anglican Church was 100 years old early in 2011.
Although the damage from the earthquake is significant we are told the community intends to rebuild the church.
A fence had been erected around the building within a week of the quake not only for the safety of 'rubberneckers' like us, but for the protection of the church. I was told that sadly, just a day after the quake; pieces of stone from the church were available for sale on the internet.
Since September 4, 2010 we have endured more than 11,000 aftershocks, or at least that's how many have been recorded in the region to date. Enzo barks if a tremor is decent enough to warrant an acknowledgement (apparently the shake has to be 5.0 or more), however the boys have been amazingly calm. This surprised us, especially in Henry's case as he is nervous by nature.
On a lighter note we caught up with some of our friends and their Newfoundlands at an all breeds dog show during November 2010.
Enzo met young Christian, a really nice brown Newfoundland puppy bred by our friend Charlotte.
Enzo participated in a bit of showing during his puppy era and may well be passing on valuable tips on how to get out of the whole thing in future...
Although we don't show our Newfy boys we participated in a Southern Newfoundland Society Club 'Ribbon Parade' (or fun show) with our friends.
I asked Michelle's Mum to handle Henry that day while I skived around taking photos. Michelle had her hands full with Enzo.
Here is Henry with his 'Grandmother' Margaret, I took this shot just as Henry was presented with a ribbon for something or other. We're not sure who looks more pleased about the whole thing...
Summer came early in Canterbury 2010 and on Saturday December 11 it was too hot to walk the boys. We decided to find a swimming hole in the nearby Waimakariri River to give them some exercise and a chance to cool off.
This pic brings back memories of Kiwa and our brown boy Wellington playing with a stick in the river a few years ago.
We really saw the Aussie in Enzo that day, I was keen to re-check his pedigree when we got home to make sure there was no Kangaroo in there anywhere...
He particularly enjoys chasing stones and leaping out of the water to try to catch them.
All in all Enzo is often a big clown...
The boys had a great hour or so, and although the swimming hole was not very deep that day, Henry & Enzo enjoyed cooling off as the temperature hit around 30 degrees.
They now have very different appearances as you can see from these two shots. Henry (above ) is coming up five years old and Enzo is two and a half and is still constantly changing shape while growing.
The Rangiora Christmas Parade was the next day.
Enzo got decked out in the backpack and Wellington's Christmas antlers.
We heard kids calling him 'Rudolph', which was pretty cool.
(Photo Courtesy Anne Rogers)
Please note that all images on this site are copyright.